Examples Below:
Arrow or pointer. The zoom tool allows you to make the image larger or smaller to make it easier for detail work.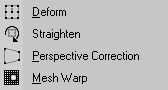 Use the deformation tool to rotate, resize, skew and distort layers, floating selections and images.
Straighten: will straighten images that may be out of alignment.
Perspective Correction: It corrects the perspective of the image.
Mesh Warp: is a tool that allows the deformation of sections of an image using a mesh network to locate the area to deform.
Use the selection tool to create a selection in specific shapes.
The Freehand tool makes Irregularly shaped borders, point to point and borders between areas of contrasting colors.
The magic wand works by selecting content rather then defining edges.

Dropper: To fill with the foreground colors left
click the mouse, to fill with the background colors right click the mouse.
Color Replacer is used as in PSP 7.

Paint Brush creates a freehand paint stroke with a brush. To fill with the foreground colors left click the mouse, to fill with the background colors right click the mouse.
Airbrush simulates painting with the airbrush or spraycan.
Warp Brush is new, and adds shapes, twirls, or expand areas to an image in an easy way that can enhance an image.

Clonebrush: Use this to copy part of an image to another location. You can clone within and image, between raster layers.
Scratch Remover: Drag this tool along scratches, cracks and other unwanted objects to remove them from your photographs.
Formerly known as Retouch Tool use the retouch tool to lighten, darken, emboss, change the saturation or makes other retouches to your image.
The above (Retouch) tool and this tool work in a similar way from earlier versions. They allow changing areas of an image or the whole image and are ways to retouch the image.
Use the eraser to replace colors in an image with the background color or with a transparency. It acts like a paintbrush and replaces the existing color.
Background Eraser allows to just erase a particular background color.
Other tool purposes:
1. Crop cropping elimates areas of an image that is not needed. 2. Mover Tool use the mover tool to move a selection marquee or a layer.

1. Picture Tube Add images or tubes which are always transparent.
2. Flood Fill The Flood fill tool fills an area with a color, pattern or gradient.
3. Text Tool Use the text tool to create raster and vector tect. Vector text can be moved, deformed and edited.
4. Preset Shape Tools Use the shapes tool to draw rectangles, buttons, callouts, signs and polygons as raster objects on raster layers or vector objects on vector layers.
5. Pen Tool (previously the Drawing tool) Use the pen tool to draw straight lines, freehand lines, bezier curves and node drawings as raster objects on raster layers.
6. Object Selection tool the object selection tool will move, resize, skew, stretch and rotate vector objects.