Grande FinaleRegarding the Vicky Boyd magazine article, GM finished tennis at 11.10am on thursday morning a time when Maddie was supposedly signed in at the creche. So how could she be playing football with Louie Boyd for an hour ?


The big pointer to me though is that there is no mention of the TWINS in this article BUT also of note (if this was supposed to have happened on the Thursday lunch the story clashes with the "LAST PHOTO" as she is said to be wearing a blue skirt)




The story also contradicts O'donnels account of Thursday lunchtime.


I'm with Hi-de-ho on this one, no definite proof of life after Sunday Lunch

If this happened at all on a previous day say, then where were the twins supposed to be ? More likely mistaken identity again is my opinion.



(The Boyd's own photo's appear to me, to be at the Ocean club poolside on Saturday/Sunday.)

There is so much about this article that discredits it to be of any value.

One sentence reveals it as not only being non credible but one has to wonder if they were ever by the children's pool in the OC.

There was no waterslide!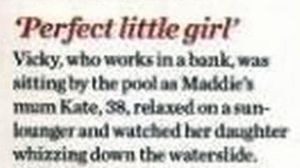 The two children were kicking a football around in the play area for about an hour? This was during lunchtime from the creche. The McCanns had (supposedly) gone down to poolside from 1.30pm - 2.40pm and during this time taken the last picture.

There is no credibility in any of the article and I havd no trouble discounting it as being proof that Madeleine was seen by them on Thursday.

_____________________________________

Below I have touched on a non discussed issue, that appears to be very confusing, but with scrutiny, actually is quite a huge discrepancy that could damage the credibility of the Last picture being taken on Thursday..

Gerry playing tennis? Rachael and Jane claim to have been playing tennis at this time and no mention of Gerry pkaying on the other court.

According to Jane she saw the family and Madeleine was shouting through the fence at her...

Rachael, however has a different recollection...

Rachael only mentions seeing the parents and (this is where it gets very confusing and worthwhile of being a topic on its own) claims to have seen Madeleine for the last time earlier that morning while Maddie was at mini tennis.

Firstly, this would mean that Rachael DID NOT see Maddie during her tennis game (when the last picture was supposedly taken)

According to records the Lobsters mini tennis was TUESDAY in which case it raises a few questions:

1) Was Rachael confused about the tennis being Tuesday instead of Thursday? If so, was TUESDAY the last time Rachael saw Maddie?

2) If Rachael didn't see Maddie at the time of the last picture, was she really there? If she wasn't there it leads to another question...

3) If Rachael wasn't there then Jane wasn't playing tennis with her and didnt see Maddie shouting through the fence at her!

Debunks Jane and Rachael seeing the family at the pool for the last picture! In other words, were Rachael and Jane 'supposed' to confirm the last picture being taken?

Going back to Rachael... She claims to have seen Maddie playing mini tennis Thursday morning... In a scenario that Rachael was trying to be 'helpful' placing Maddie alive on Thursday, she may have seen the Sharks mini tennis game and not realised that Maddie's game was on Tuesday so decided to be helpful an put Maddie playing tennis, alive and well on Thursday morning...

This would account for the scenario (if it happened at all) that Jane and Kate did not mention seeing Rachael at mini tennis (on Tuesday)

Gerry was also supposed to be at mini tennis but he was playing tennis himself until 11.15 so couldn't have been there!

Add to this that the police questioned Rachael on which court she saw the mini tennis being played.. She answered incorrectly (according to tennis records.)

As can be seen the above 'mini tennis' issue along with Jane and Rachael supposedly playing tennis on Thursday lunchtime highlights some disturbing contradictions...

If Rachael was lying about seeing Maddie for the last time at mini tennis that (Thursday) morning then why did she not see the same as Jane? Maddie shouting through the fence!

One of them is telling a porkie and leads to doubts as to whether they were there... If Rachael wasn't there then Jane wasn't there either... If Jane and Rachael WERE there then is Jane lying about seeing Maddie shouting through the fence?

Was Jane there?

Was Rachael there?

Was Kate and Gerry there?

More importantly...was Maddie there?