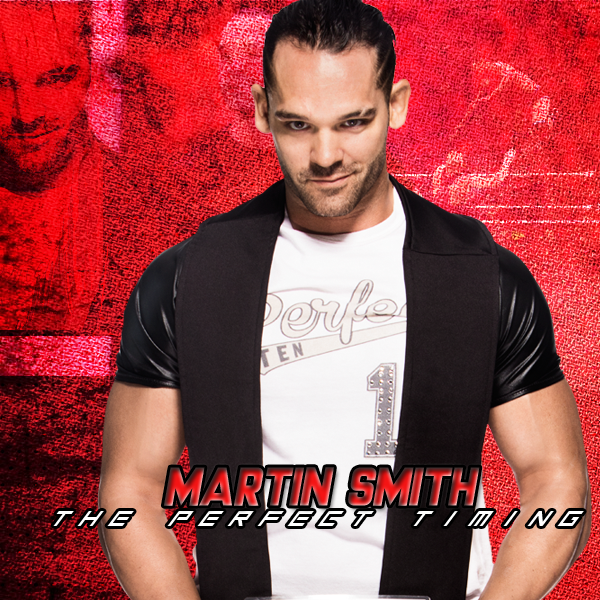 Martin visited Shawn Harris recently along with Taylor Shaw. He is healing in the rehabilitation center and Martin can't be excited to see him back inside the ring. But right now Martin is going to be making his own in ring debut against Mark Robinson, Richard Drake and Slash Dixxon. Martin has his eyes dead set on Slash for personal reasons. Slash is part of the group known as Heelish. Same group responsible for Taylor's elimination from the tournament and his best friend being hospitalized. So for him this would be the best revenge. If he eliminates himself, by putting him through the table. Could he do it ? Could he do it. Well he has perfect timing.
Yes this would bite him back, if he didn't eliminate any one of them or get eliminated first. But he's not just using a moniker. He believed to be the man with Perfect Timing. Speaking of perfect timing. He is standing right next to Zoe Monroe for an interview.
Zoe : Hello again Martin. Nice to see you again.
Martin smilingly looking at Zoe. He had that grin that was even catching Zoe's attention.
Zoe : So you are going to be in fatal four way tables match. Anything you wanted to say a out this upcoming table match. We have all these three different guys. What is going in your head ?
What is going on in his head ? Perfect ways to perfectly eliminate all three men. It doesn't matter, he is going to do whatever it takes to win this match.
Martin : You know! I can tell you. All these guys that are in this match. No offense to anybody. I am not undermining or understating anyone on the roster. But none of these guys are perfect. They all have issues. Slash is obsessed with going after every single woman. He is not focused on wrestling. He is focus on stalking. His obsession, hope someone stops him. Maybe who knows I might throw him through a table.
Zoe : He even creeps me out. I think he was at my place the other night. I can't be sure. But I can felt his presence. He says that he is always watching.
Martin surprised to hear that. His eyes widen by shock. But he didn't like what he heard. He knew Slash is bit of a freak. Freak like him and Ozone needed to be stopped.
Martin : All these creepy stalkers. Some one need to take a stand against them. I did heard Dorian taking a stand but then, and hope he really had a confrontation with him. But don't worry Dorian. I am confronting Slash in this table match and maybe eliminate him from the equation completely.
He then looked at Zoe, because he knew there would be more question coming form her. So he is waiting on whatever she can punch him with.
Zoe : Well what about others ? What about erm Richard Drake ?
Martin : Richard who ? Oh the guy who tweets every single girl. Asking them to have a good time. Hmm, well don't know if he had any actions with anyone of them. But, that is no way to talk to a lady. Seems like we have another Slash and Ozone nutcase. Must be their lost child. I think !!Come on Vince, have them fired. How long will you keep these morons on your show ?
Zoe : And what about Mark Robinson ?
Mark Robinson is Martin's favorite. He looked into Mark's profile. The guy has some personal issues of his own so he wouldn't go much into detail about them.
Martin : Well Mark, he is young gun like myself. Though he has his issues, but I hope he combats them and prepare to meet us in that tables match. Because this is completely a perfect timing for the perfect timer Martin Smith to take his exit and fully prepare for the match. Zoe I will be seeing you again soon.
He winks at her, and then walks away.
To be continual no one.