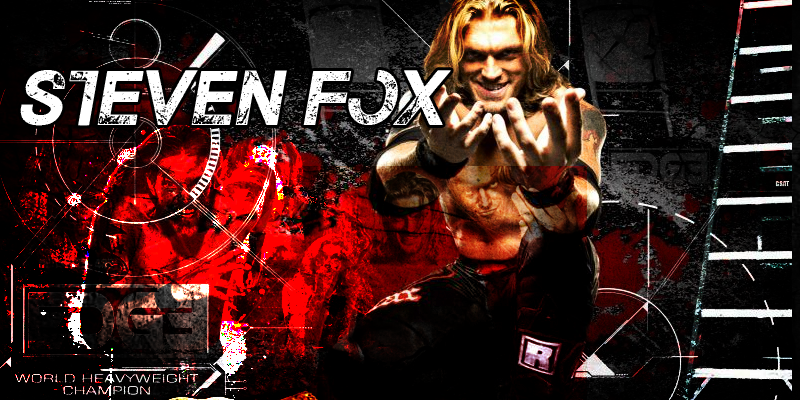 SF : Could you believe this guy ? I mean really !
Hammad was standing right next to Steven Fox, as they were both standing outside the general manager office.
Hammad : Well Steve - I do not know how to respond to that
SF : But I do, this guy and scrawny little friend thinks that I am an Edge rip off. Last time I checked this asshole shares birth names with Johnathon David Good. Yet, he calls me a rip off. He's copying his entire mannerism just like his adopted so called brother did back when he started in FCW. Yet I am Edge's rip off.
Hammad : Apart from you and Adam being from Canada. Also you do resemble with the Rated R Superstar.
Fox paused for a second but then passionately he toned his pitch voice down a bit.
SF : Yes, I do. But He and I are from different family. I never met him. I never had any of his gimmick. I never do those weird five second camera pose. I do not request for anyone to bring their camera up and take a good picture of me, even though I am sure I would look really fckin damn good. Because I am Steven Fox. Other thing Edge and I don't have in common is that Edge was totally about sex, violence and TLC matches. He never judged anyone. He just poke fun around like goofball.
Hammad : Hmm, that's true.
SF : Not just that. Edge never used a death valley driver as one of his signature moves. But I fckin do. But no, this asshole with no facts calls me a rip off. Who happens to believe in his own hype that he is going to win just like his own brother did. Well I mean his adopted brother of course - is still a better talent. Very underutilized but here in Rebirth, just because your from high class wrestling family or graduated from the best wrestling school from Texas. Doesn't make your claim any valid point for you winning the damn thing. Hammad if you see him, tell him - Wait ! Don't instead don't say a word to him. I will just show him when we compete in that battle royal. I am going to toss him, his friend Rollins and Reigns. I am going to toss everyone. From everywhere to anywhere. I am not going to be stopped Hammad. I am going to be the one becoming the FIRST REBIRTH CHAMPION ! And there is nothing anyone can do about it. NOTHING !
Fox then tries to gain his breath, as he then nodded his head. Where as Hammad wished him luck and shakes his hand. After that they both departed into different direction.
End of Roleplay