We are back from commercial. Tyler Morrison has joined SVD, Fred, and Jason in the ring. He is going to be competing in the title battle royal match. Toxxin was no longer in the commentary. He is probably went backstage. We also see the title set up on the mini round table beside the ring. It was the Rebirth's title. All four of them were staring at it. Minutes later " Work B*tch " by Britney hits and Amy comes out. She walks down the ramp and stops, looking at the belt. Giving it a flying kiss then gets inside the ring. The crowd was booing at her, after what she did earlier.
RJ Hawk : I hope someone should toss her out in the start. Because for screwing Maya's chances. She could be standing in the ring with the championship, but we have to settle for Rollins.
Shane : Shut up, your jealous. Though she is HOT ! She could be our first Rebirth Champion.
Melissa : Brother you forgot. Whoever wins tonight, our own brother has sealed their fate with some kind of punishment.
Shane : I completely forgot.
Melissa : Yeah and I am sure, that would be ugly punishment for our champion.
Next one to enter was Steven Fox. He finally walks down the ramp and head his way inside the squared circle. But even the judge stops and looks at the championship. He caress his hand on the centerpiece of the title, then walking inside the squared circle.
RJ Hawk : Some calling him a rip off. But I don't think so, he is totally original.
Next person to walk out was Taylor Shaw, that means Amy will not be fighting alone. Following her would be none other than Madi, so their entire team is now in the battle royal match.
RJ Hawk : All three of them are going to jock up for that title. I hope they get what is coming for them.
Taylor and Madi stood beside Amy as they stared at every other participant in the match. But then Taylor Shaw surprisingly finds out Shawn Harris is next. He either could work along them or not, that is up to them, but Shawn is in the match. After Shawn, Blake Underwood joined the fray.
Then we see Frank Killjoy coming in, followed by Billy Reigns. So that means Fearless Three/Fearsome Three isn't the only team in this match. The Rival™ then comes out next.
And then finally Tyler Ambrose with a huge reaction from the crowd. Steven Fox looks angrily at Ambrose who ran down the ramp and gets inside the ring. The bell sounded and all of them go in a chaotic frenzy.
Melissa : There they go ! We are on to find out who would be our First Rebirth Champion. We already have two have factions inside the ring in this match. The brother hood of Reigns, Rollins and Ambrose fighting against each other.
Shane : That is right my dear baby sister. They all are, and there goes our first elimination. Our own brother is out by Ambrose.
Tyler Morrison ELIMINATED Via Tyler Ambrose
RJ : Well there are tons of people that could participate in this match. Like Abby, Scarlet. Foxy.
Melissa : Because they are smart girls. They wish to win in their respective debut matches not lose.
Shane : I don't think so.
Ambrose then eliminated Frank Killjoy, this means he eliminated two people now.
FRANK KILLJOY ELIMINATED VIA Tyler Ambrose
BILLY REIGNS ELIMINATED VIA The Rival™
This match is for the championship and already we saw three of our talents eliminated. Those three girls are working on Blake Underwood in the corner. They trying to work together in this match. Blake then fights back against all three. He punches his way out of the corner and tosses Taylor Shaw into the corner for the Running Blake, but interrupted by Shawn Harris as he hits Blake with a swinging neckbreaker, saving Taylor Shaw in the process.
SVD was going at it with Tyler Ambrose and Jason Rollins. Where as Steven Fox was taking a beating from The Rival™
Scene cuts backstage and we see Hope Sweet watching the match. Rooting for SVD.
Tyler and Jason had SVD on the ropes, trying to eliminate but SVD punches Ambrose away. But Rollins was coming straight at him, SVD quickly dodge and shoulder toss him over the ropes to the outside.
Jason Rollins is ELIMINATED !!! VIA SVD.
RJ Hawk : Looks like Rollins will have to settle with Reload 220 Championship.
The Rival™ ELIMINATED Via Am Jackson
Melissa : Amy has her first elimination of the match. I think she has the chance to win the title here.
FRED FINN Eliminated VIA Taylor Shaw
Shane : Well now one of Amy team mate scores an elimination too.
MADI Jackson Eliminated VIA Steven Fox.
RJ Hawk : Just as we thought that they had it in the bag. One of their team mate is out. Thanks or no thanks to Judgmental Steven Fox.
Fox was looking at Madi, laughing at her whilst his back turned and from behind Ambrose tosses Fox out.
Steven Fox Eliminated Via Tyler Ambrose.
Shane : By the way let's not forget about Morgan who is suspended and can't partake in this match due to violating the terms.
RJ Hawk : Indeed Shane you are right. It seems like Fox is livid and Ambrose is mocking him, but OH WOW Ambrose is OUT !
TYLER AMBROSE VIA Amy Jackson.
Amy send a sarcastic good bye flying kiss to Tyler Ambrose who failed to win the championship tonight.. Amy got another elimination for herself. But it is confirm Ambrose is not going home with the championship, like he was parading. SVD on the other hand knocks Shawn Harris and Taylor Shaw with a double clothesline eliminating both of them from the match.
SHAWN HARRIS & TAYLOR SHAW Eliminated VIA SVD double clothesline.
RJ HAWK : We are down to three. Amy, SVD and Blake Underwood are the only one left.
SVD was standing in one corner, Amy on the far end opposite corner. Blake saw an opening so he hits SVD with the Running Blake ( Helluva Kick ), SVD staggers and falls down to the mat. But then he goes after Amy but Amy hits him with a boot to Blake's face, hurting his nose. She then grab Blake from the back and tosses him out. Leaving herself and SVD as the two finalist.
Blake Underwood Eliminated VIA Amy Jackson
Amy then was measuring SVD to get his feet. The crowd was chanting heavily for Salman Van Dam to win the title. They were not taking Amy's side since she and her friend took out Maya earlier. SVD uses the ropes to get up his feet as he was reeling on the ropes. Amy quickly goes for the Jackson kick, SVD flips over the ropes, but hold on to the bottom rope. Amy comes running but SVD flips through the ropes and connects a roll up neckbreaker. She lands hard on the mat.
Shane : Man, these two know what they are doing ? Both are desperate to win that championship.
SVD 's trying to catch break as he crawls over to the corner and stares at the championship belt, then he looks back at Amy who was on her feet too. Glancing at the title and then yelling at SVD that she is taking the belt with her. SVD sarcastically speaks to her " Oh yeah, okay take it ". She said she will she begins to step back into the corner and SVD back into the other corner. Then both sprinted towards each other. They came to collision course as they reach closer. Amy tried to spear but SVD flips over her and dodges. Amy turned around to get a kick into the mid-section.
Shane : SVD's going for Icon Bomb.
Melissa : He hits his version of GTS but Amy is staggering on her feet still. Some how manage to stay on her two feet.
SVD tries to hit her with a super kick, but she dodges and hits SVD with Jacksonkick. SVD loses his weigh as he reels on to the ropes. Amy comes running with a strong lariat and turned immediately away as she thought she eliminated SVD but SVD once again managed to held on to the ropes. He quickly spring forward with a spring board drop kick to the back of her head. She lands down to the mat. Then SVD Grabs Amy up and tries to toss her out of the ring. SVD thought he eliminated her and begin to celebrate. But then turned around to see Amy flip from the ropes and hits SVD with a springboard forearm splash. SVD goes down to the mat.
RJ Hawk : They both know why this match is so important. One of them is walking out as the FIRST REBIRTH Champion. I don't know whatever is going on here but I am loving the action so far. The two are keeping it quite back and forth.
SVD and Amy have another stare down, but then from the back comes out Taylor Shaw and Madi Jackson. SVD looked distracted as he looked at the entrance. Amy was about to run at SVD and toss him out of the ring. But from the crowd Foxy Roxy and Scarlet De Luca came out of the crowd. Attacking Amy from behind, then sending a message of their own. Taylor and Madi comes sprinting down to the ramp but Foxy and Scarlet rolled out of the ring quickly to stop Taylor and Madi, with all four ladies fighting outside. Amy got up to her feet.
She connects SVD with another JacksonKICK. Knocking him down to the Mat. She then picks SVD up. Hoping she would toss him out. But SVD managed to Shove her to the ropes and then SVD comes sprinting at Amy with a huge clothesline of his own. Knocking her over the rope and finally eliminating her from the match.
Taylor and Madi were upset as they were stopped by Scarlet and Foxy. Obviously Scarlet and Foxy are just there to make an impact of their own. But with SVD finally eliminating Amy. Winning the title for himself.
The fire work hits, with confetti falling from the rafters. At ringside Amy was livid that she lost, but SVD is now going to be celebrating like a champion. The referee that were outside grab the title and extended their hand to reach out towards SVD. Handing him the championship. He hoist the title as he reel against the rope celebrating his win.
Mark T Bullock : Ladies and gentleman your first REBIRTH CHAMPION Sallmmmmmmmmmmmmmmmmmman Vaaaaaaaaaaaaaan Daaaaaaaaaaaaaaaaaaaam !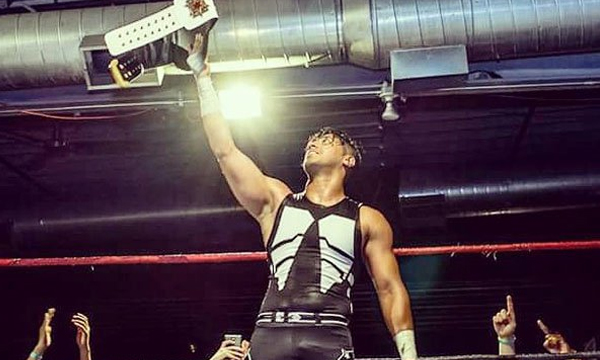 Every commentator stood up, so did the crowd. Where as Taylor, Madi and Amy walked backstage together. Whilst Foxy and Scarlet clapping. Crowd was chanting " THANK YOU FOXY- LUCA "
SVD : So you girls are HOPE 's pupil. Well I am impressed. Good luck with the title tournament. I am rooting for you two. Hope one of you would win.
He was talking to them without the microphone as he continued with the celebration but that cuts short, as light dims out. The loudspeaker then hits with a cryptic voice through the p.a " THE PUNISHER IS HERE !!! "
Smoke begins to engulf, as " Hail to the king " hits, SVD looked at the ramp with a confused look. Is this a punishment that Tyler Morrison was teasing. From the smokes come out a superstar wearing a hoodie, covering his face. But then even SVD's face comes to clear shock on who makes his way out to the ramp as the smoke clears. The man that just removes his hoodie was none other than CJ TYLER ! He finally made his UWR debut. So does that mean He is headed to face SVD. Two wrestler that are well known to the hardcore world.
SVD looks on from the ring with the belt, where as CJ stood on the ramp, moving his hands around his waist. Signaling that he's coming for the belt. He then shouts, " I am not alone ", as he turned around, on the back of his hoodie it said " SUICIDE SYNDICATE Is UWR ". Confirming one of the rumors that Suicide Syndicate has signed a deal, this means CJ will join Toxxin and obviously their third member The killer Greyson.
The show comes to a close with a staredown by both men, and SVD finally raising his arm with the belt up in the air, shouting back " Come and try take this ".