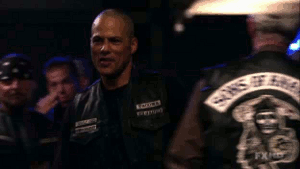 Rank:Golden Member


Status: Blood makes you related, Loyalty makes you family.
Score: 189
Posts: 189
From: Australia

Registered: 01/12/2009

| | |
| --- | --- |
| (Date Posted:05/07/2018 23:39 PM) | |
Warning: This roleplay may contain things not suitable for everyone. There may be some violence, there may be some foul language, hell there may even be some sexual content. So all you single-minded people out there...TURN BACK NOW!!! You've been warned...
| | |
| --- | --- |
| RP Title: | I beat you once, I will do it again |
| The Lover: | Married to Eve Reigns |
| Manager|Stable: | Eve Reigns| The Blood Line |
| Allies|Enemies: | Eve Reigns, The Uso's, Dean Ambrose, Seth Rollins, Rochelle Ambrose, Xanthe Fatu/ La Famila, Jeff Jarrett |
| Next Victim: | Samoa Joe |
| Next Match: | Samoa Joe |
| Out Of Character: | Good luck. |
| To Be Continued: | Me if needed. |
Just last week Roman was able to defeat Andrew Moore and become the Undisputed champion but instead of taking a break this week Roman was put on another card where this time he will be accompanied by his beautiful wife Eve to go up against a former enemy and someone he already defeated in WWE none other then Samoa Joe. After hearing what Samoa Joe had to say this time it's time to hear from the newest Undisputed champion. What will Roman have to say with the series of events that has been happening lately.

As the fans waited to see what was about to happen "The Truth Reigns" blasts through the arena and the fans jump to their feet as Roman walks out with the title draped over his shoulder, He stops at the top as he nods his head and then walks down the ramp.

"Andrew Ambrose": And here we have it. The very first IWA Undisputed champion. You need to know if Roman's head is going to be in the match due to his step son being in hospital after a terrible car accident.

Roman continues to walk down the ramp tapping the fans hands, Roman stops at the bottom of the ramp looking at the fans nodding his head, He then climbs the steel steps and enters the ring as he was being announced. Roman then raises the title as the cheering gets louder and he smirks nodding his hand. Roman nods his head as he is handed a microphone and when the fans settle down he brings the microphone to his lips and begins to speak.

"Roman Reigns": First off before I get to why I am out here, let me address the tweets everyone has sent to me regarding my step son. Yes my step son was in a unfortunate car accident and had to go under emergency surgery and is still in the hospital recovering and myself and the family would like to thank everyone for their concern. With that been said I would like to go onto the topic why I am out here.

"Andrew Ambrose": Well it seems like Roman still seems focused and that is what needs to happen when your champion and representing the company no matter what is going on in your life you need to keep your mind in focus.

Roman nods his head as the fans chant his name. As they settle down Roman adjusts his title and brings the microphone to his lips and begins to speak.

"Roman Reigns": Samoa Joe, I heard what you had to say about our match on how we meet again. You see I heard what you had to say that we all know how it's going to end and well we all do big man, Just like what happen last time we ended up in the ring together and that was me beating you all over again. Joe you seem pretty smug about this whole thing but I hate to be the one to burst your bubble because I am going to knock your fat ass out cold.

Roman smirks as the fans laugh with Roman picking on Samoa Joe. After a few moments Roman begins to speak again.

"Roman Reigns": Joe take a good look at me, I have everything that you want but can never have, I have the title, I have a sexy wife and amazing family and most of all I have more talent in one finger then you have in your entire body and trust me your body is MASSIVE you lazy fatass. Joe you see I am so positive that I can put my career on the line in a match between us in the future. You say that I am going to need good luck boy?. You can keep it because this is MY yard and the big dog is going to put down the FAT ASS... Believe that.

Roman throws down the microphone as "The Truth Reigns" plays and he raises his title as the scene goes black.
Real Name

Leati Joseph Anoa'i

Hometown

Pensacola, Florida

Theme Song

"The Truth Reigns" by Jim Johnson

Finisher

Spear

Family

Sika[father
Eve Anoa'i [Wife]
Antwan & Angel Anoa'i[Children]
Vanessa Reigns[Sister]



Disclaimer: This layout is made by Bloody Phantom for the use of Kristie. If you are caught claiming this as your own, your fingers will be cut off and fed to the dogs. The designer and the person using this layout is not sponsoring any real life people and events. It's a mere concidence.
--------------------------------------------------------------